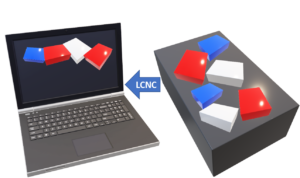 Low Code / No Code platforms are hot these days! We know why and how this can be improved.
Low Code / No Code (LCNC) platforms are seen as the solution for the Business that can develop applications by people without IT background, the so-called citizen developer.
The citizen developer
The idea is that the use of this new group of developers will help to spare the IT department. In this way, the necessary business processes can be supported more quickly and intuitively by applications. Partly because you easily design the user experience as you see fit and click the required data and (process) steps according to exactly your own needs. This the business has been used to do for years with their own designed paper forms and Excel spreadsheet. Only now with a new platform. This approach works until the data from these apps has to form an integral whole with the rest of the organization. Then it turns out that it is useful to capture all the data in a joint system. And this is where the IT department comes in, because they maintain and manage these central IT systems.
Integration is key
The success of the Low Code / No Code (LCNC) platforms infinite possibilities is, in the (medium) long term, highly dependent on the convenience or simplicity of integration with their environment.
It often contains the weakness of such LCNC platforms. Solitary they work fine and are great to achieve results. But somewhere in the supported process, there is a need to retrieve additional information or to share the information gathered.
In order to deal with this problem, it is necessary to establish a connection between the flexibility of the LCNC platform on the one hand and the central administrative basis IT systems on the other. This connection can be facilitated by agreeing on how these systems communicate with each other. Here, an IT architecture based on a Corporate Data Model and Application Programming Interface (API) can help. A corporate data model is necessary to bridge the gap between business and IT to describe the data and information. And an API to record the communication between them. In this way, we record what data we are talking about and what is needed to share information with each other. For applications that do not yet offer these possibilities, alternatively Robotic Process Automation (RPA) is made available. It allows the required manual operations to be automated and made available as an API.
A lot of software vendors are focussing on this integration these days. For the Mendix platform, a product that SAP has on its price list, one of the major announcements during the Mendix World in September 2020, was the developments around its own data hub. The press release "Revolutionary Mendix Data Hub Democratizes Data Integration" clarifies that this is the tooling that Mendix users have been waiting for.
SAP and Low Code / No Code
SAP also develops its own Low Code / No Code portfolio. During the last SAP Teched, December 2020, this was announced in the press release "SAP Empowers Developers with Low-Code/No-Code Tools and Further Enhancements to SAP Business Technology Platform". In this announcement, SAP indicates that different tools are provided for the different types of developers. In this way, many kinds of scenarios can be supported. SAP Cloud Platform Workflow Management for developers and business experts to work together to shape end-to-end processes. RPA of SAP can be used by developers to automate repetitive manual operations.
SAP Ruum is the newest addition to this family. With SAP Ruum, business experts with no programming experience can click business processes together. In the use cases about this, you can see that you will tackle and improve a whole process within a few hours. That does not include integration. The condition is that this must already be present. To this end, SAP provides its own API hub on the SAP Cloud Platform, and Odata plays a vital role in enabling integration. If that is not sufficient, then the RPA of SAP can always be resorted to.
SAP, API & OData
By choosing OData, SAP chooses a solid API description and indicates the context within which this API can be used. Like Microsoft, SAP is in the process of laying a uniform data model, called SAP Graph, across its entire portfolio, which can be accessed via a uniform API layer. It is the way SAP shapes the integration between its LCNC environment and the other SAP applications.
In addition to the mentioned options of SAP there are many other LCNC platforms. With most, you can start quickly to set up a process or application and make it work. However, we always get to the point where integration with the rest of the world becomes essential, and then often, the problems and the associated costs start.
A flawless collaboration between the IT department that makes the API of the systems available and the citizen developer within the business units for the rapid development of agile business applications, is crucial. It can be done without having any hassle, but this requires a sound strategy. The organizations that recognize this strategy and address their business processes this way are able to develop better applications faster, ultimately letting the entire company benefit.
NL for Business the integration experts
NL for Business has been active in the field of SAP integration issues for 20 years and has extensive experience in advising and applying company-specific solutions. Therefore we are the ideal partner to support you in your Low Code/No Code strategy. We guide your organization in the choice, introduction, and successful implementation of your Low Code/No Code platform and the associated IT architecture, Corporate Data Model, and required integration.