Our digitial innovation methodology supports building your digital transformation making use of new innovative technologies.
A lot of companies are struggling with their digital transformation strategy. They see all these new innovative technologies, but don't know where to start. To overcome this challenge, we, from NL for Business, developed a Digital Innovation Methodology based on our 20 years of development experiences. The methodology exists of 6 steps:.
Step 1: Transfer your business model into a digital business model
Most companies use a Business Model Canvas (BMC) to understand their business model in a straightforward, structured way. Using this canvas will lead to insights about the customers you serve, what value propositions are offered through what channels, and how your company makes money. And companies used the canvas to compare their business model with their competitors. But these Business Models don't look at the influences, possibilities, and threads of digitalization. For this reason, we extend the business model canvas with digital aspects like cloud, internet of things, communities, and artificial intelligence. This digital BMC helps C-level to understand the impact of the digital revolution.
Step 2: Identify the digitalization hotspots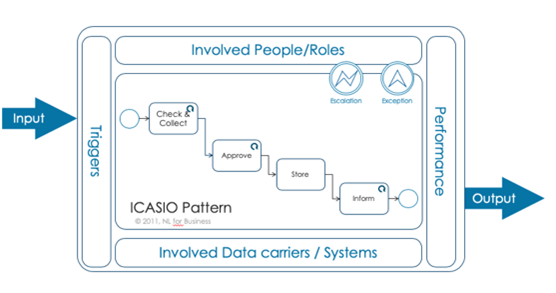 The digital business model helps us to identify with areas we have to look at first. Depending on these areas and the chosen digital transformation strategy, we will look to the underlying business processes to identify the digitalization hotspots with our own developed ICASIO model. We will look at supporting activities, their stakeholders, and outcomes. As a result, we will find hotspots that bring the most value from digitalization.
Step 3: Identify the digital data requirements
Once we know the hotspots, we look at the activities from different angles. We plot insights to our Information model from a process-centric, a user-centric, an application-centric, and a strategy centric view. Together with the ICASIO model, we know which data is needed from a manual perspective and an automated digital perspective.
Step 4: Identify the needed intelligent technology
By combining data from business systems, publicly available big data, social media data, and data collected by sensors, intelligent technology can help us to create and access data in our business context. Together with our ICASIO and Information model, we can now identify which intelligent technology and data sources can help us to digitalize our activities.
Step 5: Design your digital solution
In this step, we will make together with you the decision, which activities you will support with best-practices standard (cloud) software. And which applications you will develop yourself. These so-called own-practices will differentiate you from your competitors because they cannot buy it. And with the cloud, you use a hybrid approach. You can design your own-practice applications that make use of best-practice APIs. And you know which best-practice applications are needed. You are now able to create a roadmap to support your digital transformation. It will give you insights, which applications you should make accessible through RPA, must upgrade, get new features, can move to the cloud, and which apps you need to develop.
Step 6: Implement the solutions
The roadmap helps companies also to create a backlog with priorities for your implementations. It will help product owners and development teams to work agile. And they can make the right decisions during their sprints for both cases, during implementing or migrating best-practices standard (cloud) software and for the development of own-practice applications.
Conclusion
Our Digital Innovation Methodology guides companies in their digital transformation and facilitates all stakeholders from management to business to IT. The methodology identifies the most valuable hotspots and gives insights into the most valuable intelligence technologies for your company. As an outcome, you will get a roadmap for your digital transformation which gives you insights into your needs. These needs can be best-practice applications from vendors, emerging intelligent technology, external APIs, and own developed apps. The roadmap also will help during the implementations by providing the backlog and priorities for the sprints.
Next steps
If you want to know more about our Digital Innovation Methodology, please contact us. Our advisors, design thinking coaches, architects, consultants, and trainers of NL for Business are ready to help you.