Let's create the most beautiful applications using our SAP Expertise
We have a lot of SAP expertise in the development area. Because our approach is to listen to the business and therefore, we choose the best suitable project methodology. To reach in the end for the most efficient result possible for you. Just pick our kind of SAP expertise you are looking for.
We support our customers to build the most efficient back-office departments so the Research and Education can run as smoothly as possible.
With multiple Employee Self Service scenarios, we provide solutions for changing all the employee personal data.
We also build applications to make Travel and Expenses declaration easy to use and fully automated for all employees.
The purchase of non-catalog items is supported by an app, so these items can easily be bought, and the process connects with the standard purchase/finance process already in place.
Several web-based applications were developed by us, integrating lab test machines and SAP, to support the planning and quality processes for manufactured product batches. All test results are gathered in a real-time dashboard to get insights into the production process, plan the next steps, and make decisions. At any time, our solution can generate quality reports in pdf format to share with their customers and partners.
To build the functionality your customers suspect of you, we train and coach your Product Development team using Design Thinking, so your customers love to work with your (cloud) applications.
We support you by adding additional functionalities to your already existing applications so they will fit the requirements of your customers. 
Multiple Employee Self Service Scenarios for all the employee personal data or applications to declare Travel and Expenses automated for all employees can be provided by us to support the HR department.
Your website has to represent the most actual information available. We take care of this by adding real-time SAP data and other additional data to the website so your visiting customers see what is going on right now.
We can also add a payment service and integrate this with your SAP financials.
We support you by adding additional functionalities to your already existing applications so they will fit the requirements of your customers. We also coach your Product Managers in working according the Design Thinking Methodology.
Buying non catalogue items can be done outside the standard process but to track these purchases it would be nice to have an application to capture these. We provide the custom application fitting these non catalogue purchase in your standard process from purchase to pay.
Supporting the finance departments to speed up their period close procedure with additional checks and balances. Not only at the end of the period but also during data entry in the time up to the closing.
Are you plan to migrate or already migrated to S/4 HANA? Let us support you with your journey by
training your developers on how to cope with the changed and new possibilities
advising how to connect to the cloud and use your S/4HANA on-premise in a hybrid development architecture
helping you with building in-app applications and side-by-side extensions on S/4HANA public cloud
Get maximum value out of your SAP investments. Improve your processes by developing your custom build application with all the capabilities of SAP Cloud Platform is providing you. Integrate this application with your own in-house S/4 HANA or SAP business suite application. Enrich the application with real-time data and functions using APIs of the third parties and hyper-scalers. And link them with real-time collaboration platforms and office applications. And when you need help, we have all the expertise you need. We know how to bring all these components together to build marvelous applications for your customers and employees.
Combine the best of two worlds, your office environment, and your reliable back-office administration, connecting them by using workflow and approval possibilities of either SAP or Microsoft or a bit of both. Hear us out about everything you can achieve in efficiency for your business processes and your revenue. We can tell you how to set up the architecture and be able to develop the most beautiful apps in which SAP and Microsoft work closely together.
The skills our customers know us best for
We know all about developing applications in the SAP environment, whether it is in a classic ABAP environment on the SAP ECC or the high-speed innovative S/4 HANA environment. Wheter you need in-app extensions, side-by-side applications, or new standalone applications. In the cloud or On-Premise. Because we already work for more than 20 years in SAP and educate us on the latest technologies, we know how it works.
We build the most beautiful user experienced apps you have ever seen because we have the SAP expertise to create the smoothest working interface to connect your SAP systems with any other application in the world.
This is, for sure, the reason why we still work for the same customers as we did in 2001.
SAP FullStack Development – 100%

SAP Fiori development – 85%

SAP S/4 HANA Development – 70%

SAP Cloud Development – 55%

SAP Cloud Integration & API enablement – 50%

SAP on Microsoft Azure – 25%
Generating New Ideas. Solving Big Problems
When we are not able to solve your SAP development problems, probably no one can. Just challenge us!!
Our SAP expertise in Detail
SAP Leonardo ML and AI
Machine Learning and Artificial Intelligence bring new possibilities to run your business even better. Let's explore these new possibilities.
SAP Robotic Process Automation (RPA)
Running your business process with less manual interventions, less data errors by running them with robots. Your employees can focus on the real exceptions. Let us support you be more accurate.
SAP CoPilot & Bots
Natural Language Processing will be come the new standard. Let's talk with your ERP system. Let us implement your first chatbot to show why, where en how it works.
SAP Fiori for Web
SAP Fiori and SAP UI5 is the user experience platform for SAP. We implement standard SAP Fiori applications and build delightful Custom Build Fiori application suited to your needs
SAP Fiori for iOS
When Bring Your Own Device (BYOD) is responsible for the need of Custom Build Fiori application based on iOS, we will implement them for you.
SAP Fiori for Android
If you need a native application in an Android environment we will support you by connecting it to your application landscape.
SAPGui
Good old SAPGUI still runs perfectly well in the SAP ECC environment. Let us tell you how to migrate your SAPGui application to SAP Fiori application ready to run in every browser.
SAP Interactive Forms
SAP Interactive Forms was used to collect data within a browser environment or Adobe Reader. We can upgrade your application info a SAP Fiori application running in a browser of your choice.
SAP WebDynpro and BSP
SAP WebDynpro and BSP applications still run very good in your SAP ECC environment. Let us support you to bring these application into a S/4HANA ready application, running at the SAP Cloud Platform if you wish.
SAP Cloud Platform Developer
SAP Java Cloud Developer
If Java development is your way to go then making use of the SAP Java Cloud Development environment will be the place to be.
SAP NodeJS Cloud Developer
In the SAP Cloud Foundry environment you will be able to enrich your SAP solutions with your NodeJS applications.
SAP ABAP Cloud Developer
Develop your future-proof SAP application in the Cloud with SAP ABAP in the Cloud.
Just ask us to support you because we know how to use this platform
SAP Process Integration
Your business process only makes sense if it is connected in the right steps with all its useful information. Let us be your partner to connect your process steps into smooth running business processes.
SAP API and Data Hub
Connecting data form inside SAP ECC and SAP S/4 HANA and the outside world. But also the other way around will support your business with all the data needed. We can help you setup this environment and connect just everything you want.
SAP Cloud Platform Services
Build your custom build applications at the SAP Cloud Platform. Making use of the SAP Cloud Platform Services will connect this application to the S/4 HANA core and to the outside world to be a marvelous application.
'Classic' ABAP Development
Good old ABAP is running well in the SAP ECC environment. With our expertise we can support you in adjusting these application. We also can tell you what is needed to migrate these applications to a S/4 HANA environment. 
HANA Database Development
Running your Business Suite on a HANA database makes it possible to migrate your existing applications to work with Core Dara Services (CDS).
S/4HANA Development
In the end the SAP environment will be changed to a S/4 HANA environment with all its own development possibilities. We know them, just invite us to tell your about it.
SAP Application Specialist
SAP Intelligent Suite
The new environment making use of all new possibilities of Machine Learning, Artificial Intelligence and Internet of Things on top of your standard ERP.
SAP S/4HANA
Use this new standard ERP environment, so your business processes run faster and your frontend apps are more flexible to run an Agile business.
SAP Business Suite
Your standard ERP environment, also know as SAP ECC. A reliable basis for all your standard business processes.
Design Thinking Coaches
Try this 5,5-day Design journey with our coach. Let your team experience Design Thinking in a real live project.
Because Design Thinking is not just one workshop and difficult to understand in a theoretical training.
Enterprise Architects for SAP
Making it all work together so you will be sure the strategy of your enterprise is perfectly aligned with your IT landscape, providing all information needed.
Integration Architects for SAP
Let's make all systems work together in an integrated landscape so your SAP system will get all the external data needed and can supply the data other systems are asking for.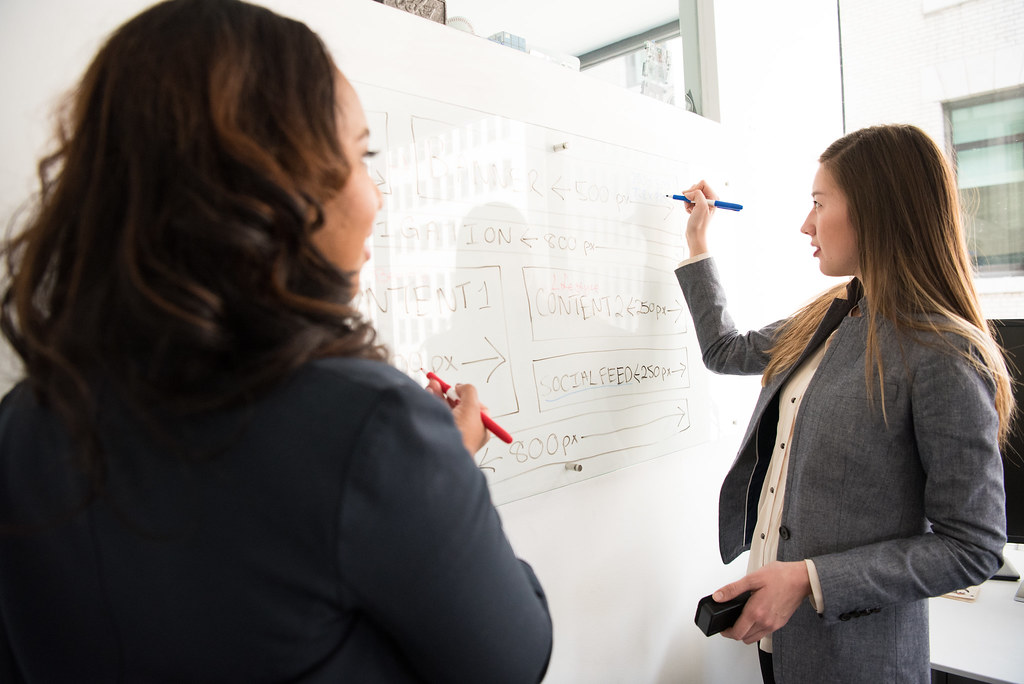 We just really listen to the challenge you offer us. So, we understand the problems you are facing. After proper research, designing the prototype and validating the solution you will get a final, stable, and likable application which will run for years without any kind of hassle. Our applications always contribute to your agility and flexibility and therefor your revenue.
Meet up with our extreme experienced SAP experts.
Let's Start Something new
Say Hello!
With our SAP Expertise we build everything you want. Just ask and challenge us. We would be very pleased to support you.
NL for Business
Bergweg 24
1261 XX Blaricum
+31 35 5237500